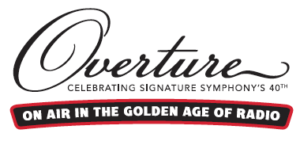 SATURDAY, MARCH 9, 2019
Join us as we celebrate Signature Symphony's 40th
anniversary by going back in time to the 1940s. We'll
be visiting the era of Big Band music, swing dancing,
glamorous films and sophisticated fashion for an
evening reminiscent of the Golden Age of Radio.
River Spirit Event Center
Reception 6:00 p.m.
Dinner and Program 7:00 p.m.
Signature Symphony at TCC's annual fundraiser
helps support quality arts entertainment in Tulsa and
strengthen Signature Symphony's music education
and community outreach programs.