Jeff Smith, Viola
Jeff started when the group started in 1978. He was finishing his master's in Music Education at the University of Tulsa when he heard that Barry Epperley was going to form a chamber orchestra within the Tulsa Philharmonic. He started his professional career in 1972 as a member of the Tulsa Philharmonic Orchestra under Skitch Henderson. He played the very first concert of the Tulsa Little Symphony.
One of his favorite memories with the symphony is the performance of the Shostakovich Symphony No. 13 with Yevgeny Yevtushenko as narrator. (Shostakovich wrote the symphony around his poem "Babi Yar.")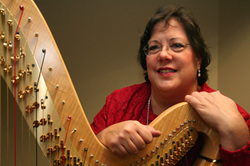 Lorelei Barton, Harp
Lorelei began with the orchestra in the fall of 1982. She was right out of music school, with orchestra and ensemble playing as her focus, even though her degree was in solo performance.
She enjoys having the opportunity to play in the PACE and being a part of TCC. She believes that the Signature Symphony at TCC plays a strong role in increasing awareness of fine arts and the importance of supporting fine arts in Oklahoma.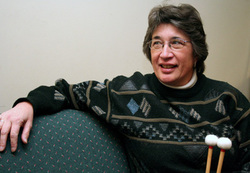 Lois Ahrend, Percussion
Lois started full time with the Signature Symphony at TCC in 1994 after playing for the Tulsa Philharmonic for 19 years. She enjoys sharing music with the symphony's loyal sponsors and audiences.
She says she likes the PACE because of its modern facility and its ability to bring together students and professionals to create an alliance for music education.
In addition to her work with the symphony, she also teaches music lessons.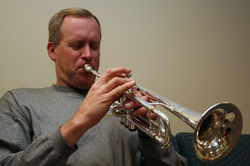 Stephen Goforth, Trumpet
Stephen joined the Signature Symphony at TCC in 2002. He finds the opportunity to perform with an orchestra in residence pleasing on many levels. He says the performances are only a piece of the orchestra's contribution to the arts experience in Tulsa.
"So many of us are teachers, and our experience in the higher level of performance is taken then to our students," he said. "We offer opportunities for our audiences to hear the finest musicians in the world as the guest artists are often known internationally."
He says all the musicians are proud to be a part of the community they serve.