Higher Scale Music Education Outreach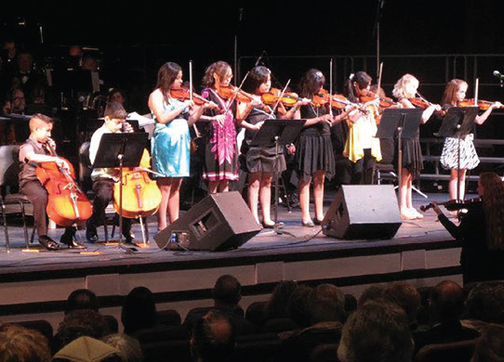 Music education and outreach is a priority for Signature Symphony and the Signature Symphony musicians. Many Signature Symphony musicians not only perform with the orchestra but also teach and coach music students at TCC, other colleges and universities, and various public and private schools and studios throughout the area. Since its formation in 1979, the orchestra has been committed to providing rich musical experiences through its performances and valuable musical instruction through its outreach to support music education and aspiring musicians in the public schools.
The Higher Scale Music Outreach Program, operating as a collaboration between Signature Symphony, Tulsa Public Schools and Tulsa Community College, makes possible music instruction and experiences as part of the traditional school experience for students of all ages as part of our mission to enrich arts in Tulsa. Twice each week, professional Signature Symphony musicians teach violin, viola and cello classes for elementary students in
Tulsa Public Schools.
The program engages students for up to 4 consecutive years, for a total of approximately 200 music lessons over the course of their instruction.
Signature Symphony at TCC recently launched Seedling Symphony. Developed by Signature Quartet musicians as part of the orchestra's music education outreach component, Seedling Symphony introduces young children, from birth to six years old, to complex and intricate music using string instruments, the viola, violin and cello, in a live performance. Seedling Symphony works with children at TCC's West Campus Child Development Center and other early learning centers throughout the Tulsa area.
Donate Instruments for the Higher Scale Program
We are excited to have the Signature Quartet in Tulsa Public Schools this year, teaching students how to play stringed instruments. Unfortunately, some of our schools and students have no instruments.
If you are interested in donating an instrument or making a donation to help fund our Higher Scale education program and instruments, please contact Susan Martin at the Signature Symphony office, 918-595-7776.
Thank you for sharing the gift of music with our children.